Posted on 3rd Aug 2011 @ 11:39 AM
The iPhone 4S will be welcoming soon a new member of the family to Dubai,

>>To receive an email once the iPhone 5 comes to Dubai, please leave a message on this page : http://www.emiratesavenue.com/buy-in-dubai/pages/Buy-the-iPhone-5-in-Dubai.html
Launch date of the iPhone 5 is in 1 week only, it should be in Dubai end of September or 1st week of October :)



See potential photos of what the iPhone 5 (actually back then the 4S) could have looked like below + the latest news
We were all waiting to know the iPhone 5 launch date in Dubai, finally it will be the iPhone 4S that will be soon available.
To know everything about the price and availability, please sign up to the newsletter below
- To pre-order the iPhone 4S, please go to the iPhone 4s pre-order page
To know when the iPhone 4S will be available in Dubai you can also sign up below.
As soon as the iPhone 5 release date in Dubai will be known, you will be contacted.
According to sources, the iPhone 5 launch date and price might be announced on 4th of October.
Latest update : 2nd October 2011
Next iPhone to likely come in 64GB, 32GB, and 16GB capacities :
"The new iPhone 5 will probably come in three storage capacities. According to different sources it's fairly likely that Apple's new iPhone will come in 16GB, 32GB, and 64GB capacities, and in black and white, like the iPad."
"Apple might announce 2 different iPhones on its press conference on 4th of October, an iPhone 4S at a cheapest price and capacity (8GB) and the awaited iPhone 5."

Preview of the iPhone 4S (iPhone 4 with 8GB storage capacity)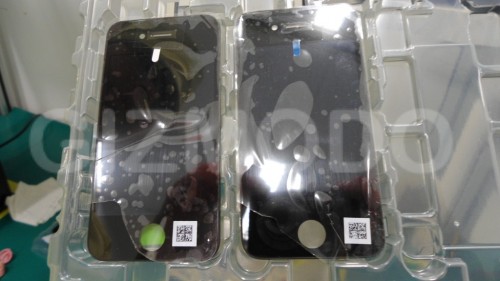 Another mock up preview of the iPhone 5

Until we know when will the iPhone 5 be available in Dubai,
See below the latest rumors on the iPhone 5, the new Apple wonder :
Sources : Gizmodo.com, 9to5mac.com


Latest update, 10th September 2011 :

According to 9to5mac, Apple's latest Photo Stream software beta release has an interesting icon that seems to look like the iPhone 5, with a larger screen and elongated home button
Therefore, from the image above, this is what the iPhone 5 could look like when it reaches Dubai
The iPhone 5 case might have already leaked and been copied, here is what it could look like
What we learn from it :
- This mold points to a larger display,
- A larger home button
- A thinner profile for the next iPhone
- A micro USB port (at last !)
These are other images of what the iPhone 5 could look like :